Alright everyone, I figured I'd check in and give you all an update on my progress in Career mode.
Since I just started playing a couple of days ago, I'm still in the Apprentice section. Here is a breakdown of the stats so far.
Career Level: Apprentice
Challenges Completed: 5 of 20
Track Types Unlocked: 2 of 3
Locations Unlocked: 2 of 5
Cart Styles Unlocked: 7 of 17
Decals Unlocked: 5 of 10
Special Fonts Unlocked: 3 of 10

During these first 5 challenges, you will only have two goals to achieve, but you will be limited to just one editing tool. At times, this can be frustrating, even with the Undo function, as you will undoubtedly make mistakes. Looking back, I think this is more in an effort to teach you, without making you feel like you're being taught. A tutorial that doesn't let on it's a tutorial.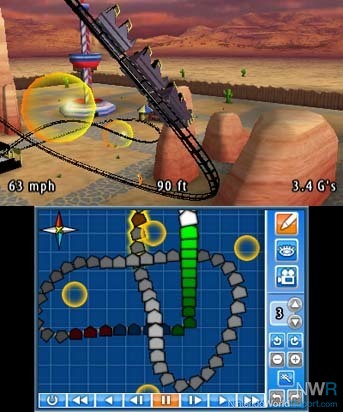 It took some time, but I have started to learn when to use the d-pad to rotate my view within the track editor, as well as when to zoom on the top and bottom screens. These 3 steps, the editor tools, and your imagination are what will get you through the Challenges. Good luck and if you have trouble stick with it!
If you're still having trouble, post a comment or send me an email and I'll do my best to assist you.